Gothenburg/Stockholm, Sweden
---
The time has come! To say fair's fair and so forth. Soon I'll* embark on a new odyssey, as it seems like ages since last time.
Fourteen years ago, I started these irregularly returning trips to far-off places, and I started with Australia. I have since visited all inhabited continents, AND all uninhabited, and done so over the course of ten trips.
So this is my eleventh event, and with it, it's time to usher in a new era: Not only is it about time to revisit some places, but more importantly, I now have someone to share them with. My partner-in-crime-,-life-and-travel, Caroline, will be co-travelling with me all the way, which is a new concept.
Australia, as noted earlier, is not new for me, but as a rule, I always visit at least one new country on my trips. In this case, it's Sri Lanka that'll be a new experience.
So, this will be a new trip, a new country and a new concept.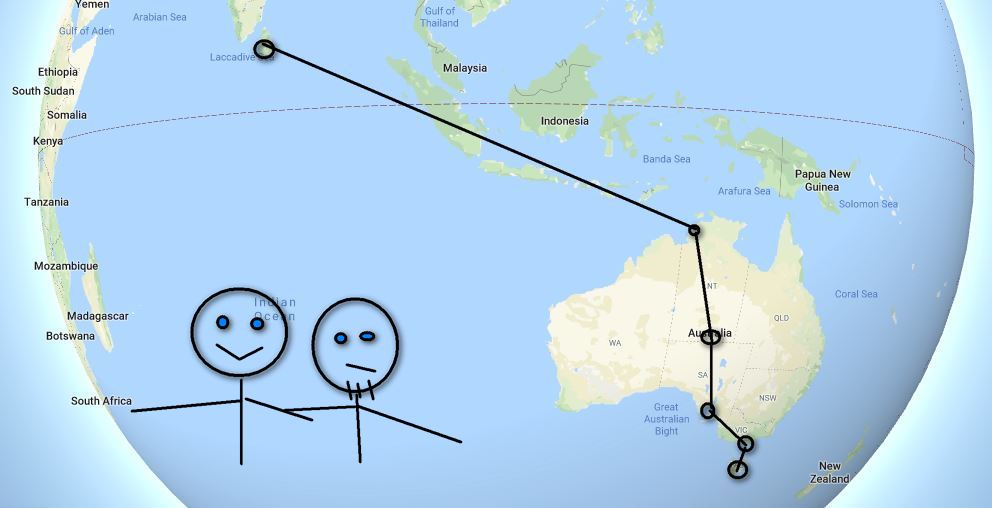 The route, as far as we know
We'll fly out from Stockholm to Sri Lanka. After a day or two with beaching and diving in Negombo, we'll join a tour group for their 10 day hike, bike and kayak tour to Sigiriya, Kandy, Ratnapura, along Kala Ganga River, Mt Lavinia and finally Colombo.
My partner-in-crime-,-life-and-travel, Caroline, will be co-travelling with me all the way, which is a new concept

– Martin
After the hot and humid explorations in what is sometimes called The Teardrop of India**, it's time for the main part of the trip: Australia, and in particular its Outback. Starting in Darwin (where we'll dive with the crocs at The Cage of Death) and its surroundings, we'll head off to the Red Centre with another tour operator.
Alice Springs, Uluru, Barossa Valley and Adelaide will provide adventure, scenery, culture and wine-tasting (not necessarily in that order), with the additional possibility of financial independence by finding a large enough opal at Coober Pedy.
After a stop at Oz's third largest island, Kangaroo Island, the tour continues along the Great Ocean Road, where we'll pass the Twelve Apostles before reaching Melbourne just in time for Festivus***. And Xmas, I suppose.
Waving adieu to our co-travellers for the last three weeks, we'll fly off to Oz's first largest island, Tasmania.
Starting in Hobart, we'll be joining yet another tour group and explore the highlights of Van Diemen's Land, including, but nor limited to, Strahan, Cradle Mountain, Launceston and Freycinet NP, with New Year's celebrations on the road. We'll round up with a few days around Hobart, such as Port Arthur and a visit to a get-away run by a former tour leader of mine, before heading back to the mainland.
Finishing with a couple of more days in Melbourne, we'll fly home in early January 2020, with empty pocket books and to the brim filled memory banks.

-M
Caroline's corner
To embark on a journey is not always the literal action of hopping on a bus, a train, a boat or an airplane. It is sometimes the planning, the dreaming, the longing, the vagabond itch.
For me, this journey started perhaps 2,5 years ago when this travel-duo looked at each other with different eyes and actually saw one another.
Or perhaps the journey might have started some 25 odd years ago when we first got to know each other during the dark (slightly dimmed lights) and seedy (oh how innocent we were back then) uni party/frat life.
So this might be a natural continuation of what was already begun years earlier. But leaving philosophy or nitpicking aside, this specific journey started about a year ago when we loosely begun the pre planning stage of vagabond dreaming.
And now, some 12 or 13 months later we will, in just a few days, take off and fly away to the first part of our winter/summer adventure. Leaving the Scandinavian winter for seven weeks of Southern Hemisphere summer. And all this in the company of my partner in crime, my person, my best bud and my favourite pain in the patoot: my Martin.
This journey is on like Donkey Kong!

-C

---
*) Or, rather, we'll
**) Or, you know, Serendib, Resplendent Isle, Island of Dharma, Pearl of the Orient and so forth
***) For the rest of us